Tsubaki India Power Transmission Pvt. Ltd. - Founded on 1st June 2010
On 14th May 2010, a public announcement was made by Tsubakimoto Chain Co. (TC) on the founding of Tsubaki India Power Transmission Private Limited (TIPL), subsidiary of Tsubakimoto Singapore Pte. Ltd. (TSL) in Chennai, Tamil Nadu, India. The new company started operations on 1st June 2010.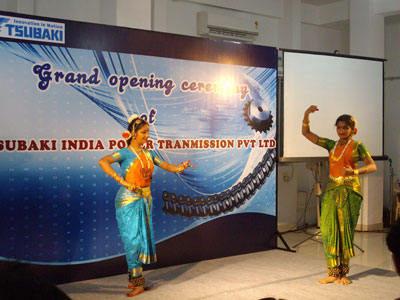 The company was incorporated to further expand operations in India after two years of liaison work as a liaison office. With nine scheduled employees in charge of sales and operations, the company's aim is to conduct more focused sales activities and deploy technical services more rapidly.
The TIPL office was officially opened on the 17th of June 2010. The day started with a morning "Pooja" ceremony conducted by a Priest with TIPL staff and invited guests from TSL & TC in attendance. This ceremony is believed to bring good business to TIPL.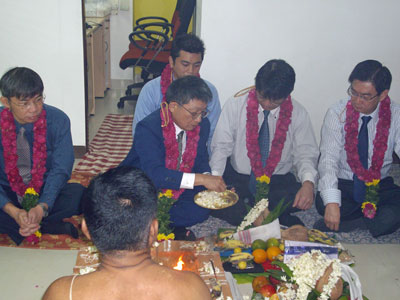 In the evening, Chennai Mayor, India Japanese Consulate General & Mr. Katsuhiko Mio, Managing Executive Officer of TC, were the guests of honor who officiated the opening of the TIPL office. All guests including bankers, authorized distributors, customers and other business associates were treated to an evening of entertaining Indian classical dances, musical band performances and a sumptuous dinner. The evening's event ended with a lucky draw with attractive prizes and a closing address by TIPL director, Mr. Yasushi "Eddy" Ohara with a final word of thanks to all guests.